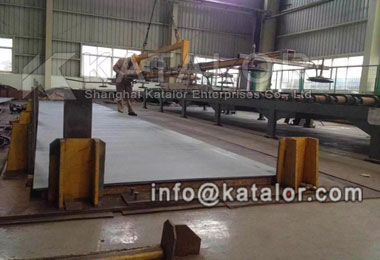 GB 19189:12MnNiVR is a kind of steel plate for large oil storage tanks, Compared with the Japanese standard G3115 SPV490Q standard. The JIS crack sensitivity coefficient Pcm is reduced, More conducive to steel welding. The impact test sampling direction is changed from vertical to horizontal. The impact temperature is changed from -10 degree to -15 degree or lower, and the impact power is improved.

GB 19189: 12MnNiVR Chemical composition analysis:

Grade

The chemical elements (mass fraction) /% ≤

C

Si

Mn

P

S

Cu

Ni

Cr

Mo

V

B

12MnNiVR

0.15

0.15~0.40

1.2~1.6

0.02

0.01

0.25

0.15~0.40

0.3

0.3

0.02~0.06

0.002
GB 19189: 12MnNiVR Mechanical properties and process performance:

Grade

Thickness

Tensile test

Impact Test

Bend test

Tensile Strength

Yield
Strength

Elongation

Temperature

Type V
impact work

180° b=2a

12MnNiVR

10~60

≥490

610~730

≥17

-20

≥80

d=3a
Products size we mainly supply:width:6~50 width:1600~4100 length:L
12MnNiVR Extra Service: Pretreatment (Shot Blasting, Sand Blast, Painting and Galvanized), Cutting Parts, Sample Service, Third Party inspection, UT Test and Size inspection.

We are specialized in producing and exporting GB/T 19189 12MnNiVR Large Crude Oil Storage Tank Plate. If you have any needs for 12MnNiVR Tank Plate, please feel free to contact us by email of calling. Our sale manager will reply you as soon as possible!
Request for Quotation